Hello! I think about acquiring. How do you think it is easy to use?
I do not recommend Optivizion for electrolysis. This is a single digital camera and it lacks of stereoscopic effect. It is the same as to work with only one eye. For the price of about 5000 CAD I would buy a high end binocular glasses and even second hand surgical microscope.
Thank you. But why is it so important that the image is stereoscopic? you know someone from electrologists who uses optivizion?
Are you an electrologist? If you are, then try to work with only one eye, how I wrote above.
Than you will understand what is the stereoscopic effect.
If you need more explanation just PM me all your questions.
Thank you, I understood. What kind of microscope do you use?
I used this microscope:
https://www.microscopenet.com/7x45x-zoom-trinocular-microscope-articulating-stand-with-ring-light-p-9625.html
and modified to this: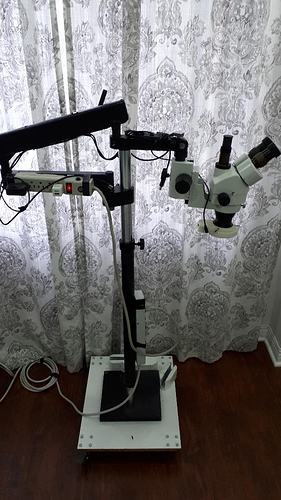 You can buy
0.5X auxiliary lens for increasing working distance and field of view



This lense will decrease the magnification 2x (3.5X-23X) but will increase the distance between the lower part of the microscope to the skin.The distance will be about 15 cm which is not bad. The distance between the eyes and the skin will be about 40 cm.
The stand have to be heavy or you can put weights like me.
If you have more questions please let me know.
The quality is not very good (Made in China) especially the articulated arm but I manage to work with that setup about 5 years. There are more restrictions compared with the profesional surgical microscopes and you will need more time to get used to.
Thanks a lot! there are no more questions!
maximum distance from the magnified subject to the lens off the microscope is 131 mm or 13 cm. I have tweezers nearly that long. I deally you want about 3 X this amount of working room.These are the reasons the OPMI are so sought after.
what do you think about the device Silhouet-Tone 7hd evolution?
I've never used one so I cant tell you anything about it. I can ell you that I saw a 5 hd in my esthetics supply company a couple years ago and inquired about it, and they told me it had been in their shop for over a year and they had never sold one. Speaking from experience from using a VMC for some time in the past it was an excellent epilator, but these new touch screen computerized epilators are a whole new world in finicky electronics, and the reason the VMC is not more popular is its no longer sold or serviced by Silouette Tone. Longevity, and long term reliability , seem to be the Achilles heel of most of the complex epilators made today.That said I may have a second additional electrologist coming to join our firm in the near future ( still deciding if this is a good idea or biting off too much too soon) and I'm looking at …of all things…a platinum pure as an epilator for them, the one epilator I have shirked and refused to consider for some years now, thus proving that when all the equipment in the market have the same reliability issues, sometimes you just go with what works for you at the time and expect to spend more money later on.
Seana
Hi Nora,
This is very similar to what I have. If you use the 0.5 X lens the working distance will be increased.I do not have problems with the distance. Maybe you will need a little time to get to use to. Also the benefit is that you will have infinite(not steps) magnification between 3.5X and 23X which for me is the ideal range for magnification using for electrolysis.
For this price I would buy it.If you have more questions please let me know.
Thanks,
Dimi