Hi! Long time lurker who finally made the decision to start my electrolysis journey in January of 2020. I had my first 3 sessions done at a different office in a different state, and the rest of my appointments were all done by the same (amazing) electrologist in my current home state.
I wanted to share my experience and also give a little insight to how long it takes. As you read this please remember EVERYONE is different. I'm mid 30's female and I suffer from pcos, so the hair I wanted to remove was on my lip, chin, and sporadically on my neck. I plucked for YEARS (do not recommend) so I'm sure this exacerbated the problem. I also was getting threaded at least once a week. I realized I was throwing money down the drain and my problem seemed to be getting worse every year. Electrolysis is permanent. It has truly saved me time, money, but most importantly, my self esteem. I no longer have to bring small mirrors on vacation to frantically tweeze every morning. I no longer worry about my facial hair…. A worry that plagued my mind since I was in my 20's. The freedom that comes with electrolysis is something I never thought I would experience and I am so grateful.
Some random thoughts that may ease your mind: In the beginning it hurt, but as time went on I started to get used to it. For my first few sessions I did have small white pustules and tiny red scabbing that all went away. I think by my 5th or 6th session I was only red for a few hours after and that's it. Treatment advice I learned and swore by: take some advil/ibuprofen 30 minutes before your session. After your appointment, ice the area for like 20 minutes or so. However long you feel you need. Then DO NOT TOUCH IT… honestly, don't even look at it. Take a picture and be done. Don't make the same mistake I did! I was over-treating my face… putting on endless amounts of aloe (from the plant) and not letting my skin breathe or do it's natural healing process. Because you could drive yourself crazy trying to figure out if this will scar blah blah blah… just leave it alone. Try and sleep on your back. Sometimes in the beginning I used witch hazel to just clean the area and then guess what… that's right… I left it alone. I didn't tweeze, shave or do any type of hair removal except occasionally trimming. Drink lots of water!! My electrologist and I always knew the days I was dehydrated, haha. Be consistent (if you can). It takes about 2 years… maybe more if you're like me and have a hormonal issue. But know that year 2 is a lot different from year 1. Electrolysis is permanent so you truly never have to worry about those hairs again. All the redness, acne, etc goes away. Before I started electrolysis I used to have raised skin in my trouble areas that were noticeable when I wore makeup. Now I don't have that at all. My skin is smooth. I believe electrolysis also helped with my acne since I'm not touching my face, getting threaded, tweezing, etc.
I don't really have any pictures of what my hair looked like all grown out since I constantly was tweezing or threading, but here's a pic of probably a few days of growth looked like: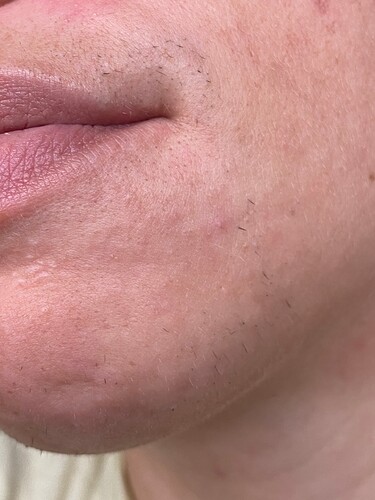 Below is the timeline of my electrolysis journey. I was cleared during every session:
1.8.20 - 45 min
1.14.20 - 30 min
1.21.20 - 30 min
1.29.20 - 30 min
2.9.20 - 45 min
2.15.20 - 15 min
2.22.20 - 30 min
3.1.20 - 30 min
3.5.20 - 15 min
3.11.20 - 20 min
3.18.20 - 20 min
3.25.20 - 20 min
4.7.20 - 30 min
4.14.20 - 15 min
4.21.20 - 15 min
5.5.20 - 15 min
5.12.20 - 15 min
5.20.20 - 15 min
5.27.20 - 15 min
6.2.20 - 15 min
7.3.20 - 45 min
7.8.20 - 15 min
7.15.20 - 15 min
7.22.20 - 15 min
7.29.20 - 15 min
8.12.20 - 15 min
8.26.20 - 15 min
9.6.20 - 30 min
9.16.20 - 15 min
9.23.20 - 15 min
10.3.20 - 15 min
10.14.20 - 15 min
10.22.20 - 15 min
11.4.20 - 30 min
11.13.20 - 15 min
11.20.20 - 15 min
12.6.20 - 30 min
12.22.20 - 15 min
1.8.21 - 15 min
2.3.21 - 15 min
3.6.21 - 15 min
4.1.21 - 15 min
4.28.21 - 15 min
5.27.21 - 15 min
6.17.21 - 15 min
7.14.21 - 15 min
8.12.21 - 15 min
9.15.21 - 15 min
10.13.21 - 15 min
11.16.21 - 15 min
12.15.21 - 15 min
1.26.22 - 15 min
2.23.22 - 15 min
If you have any questions please feel free to ask. I was constantly on this website before I started my electrolysis journey, so I understand wanting to get as much information as you can, but please know it's the best thing I have ever done for myself. And a big thank you to my incredibly skilled electrologist.
Here is what my skin looks like now: