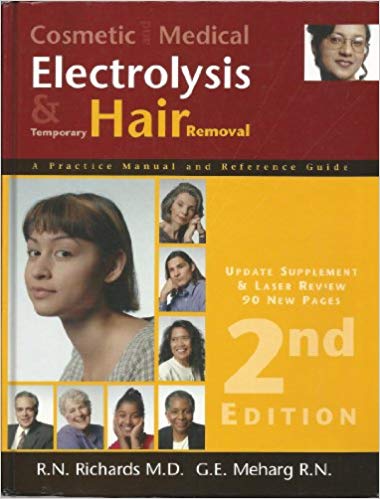 by Robert N. Richards and G. E. Meharg
ISBN-13: 978-0969474630
ISBN-10: 0969474636
Any professional or consumer planning to perform electrolysis can do no better than this comprehensive guide to the process. Not only does it cover methodology and tips, it even has extensive data on hair anatomy, other methods, and skin care. If you only buy one book on electrolysis, this is the one you should own.
just bought this book on Amazon, can't wait to read it!
Does anyone know how to buy this book with a affordable price? Buying used book or just renting is ok with me.
Thank you in advance.
Welcome! This book is definitely worth the investment for a practitioner. I use my first edition to this day.
I have 2 copies because the other one came with the used Hinkel machine that I bought. I think also someone hv .pdf version.
I'm looking for a copy this is the book I want. Does anybody know if there are other volumes. I've only seen it with volume 3 written on it
Yes, I have a volume 1, but there's also a 2. I would look on eBay and sometimes they have it used on Amazon. You might ask local electrologists who might be willing to sell an older version.
I have looked .pdf for u. I couldn't find it. Sorry for not being so helpful
sorry but would you like to resell it?
actually could I request the book scan instead? I'm just concerned about copyright…
Thankyou Andrea.
Could I ask how they differ? Is there new information added to each edition?
I suspect that as each of us would own, at best, one version of this text we wouldnt know the differences between them necessarily. I'mm fairly sure that mine is 3rd or fourth edition but I would have to check when I'm at the office where it is currently located